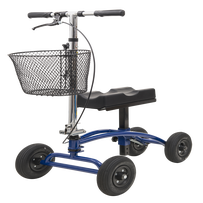 FREE Delivery and Free Collection when you book for 4 weeks or moreVisit the shop
Call Teri or Mark on 01-291 0099 or 086-142 2936 for more details
Users testimonials
" I love the strideOn, it has changed my life!!"
"The Strideon knee walker and the kindness and helpfulness of Renee saved my sanity when I broke my ankle recently. It really was wonderful and I would recommend it to anyone with a leg injury.
I'd never heard of such a thing, but the day before the accident I saw a women in a shopping centre on a strange contraption which, a few days later, I discovered was a knee walker. Crutches were very tiring and nerve-racking. With the knee walker I was able to whizz around downstairs, make meals and drinks and get them to the table, which was impossible with crutches. The Strideon made the weeks more bearable. I eventually plucked up the courage to go to the shops and library nearby, and found it very stable, using the basket for my shopping. I had lots of conversations about Strideon during my expeditions outside.
Hiring Strideon was very easy, I contacted Renee by phone and booked it for 5 weeks initially, extending it a further 2 weeks to be sure, to be sure. Renee arranged delivery and collection by courier, and was very encouraging and kind at all times by phone and email. I will be forever grateful to Strideon for the excellent product and service."
"Would highly recommend using a StrideOn. I don't know how I would have managed without it. Renee was great to deal with, your knee scooter is delivered to your home and then collected. You can rent it on a weekly basis so there is no huge financial outlay. It folds down so you bring it in the car for appointments or whatever else you need to do."
"I cannot recommend StrideOn any higher …. I had ankle surgery last year and was non weight bearing for 3 months and I have to say the StrideOn was a life saver …. I was even able to make myself a cup of tea lol".
"Highly recommend StrideOn. Keep your independence and stay mobile while in plaster particularly"
I was very pleased with the Knee Walker I rented from you to help me move around after my recent foot operation. I had it for almost 8 weeks and never had a problem using it from day 1. The 5 wheel version which I had was the "best" as the additional wheel at the front ensured stability even on uneven surfaces such as paths and roadways. It was much more flexible to use than a wheelchair which was the only device readily available when I broke my ankle more than 4 years ago.
As recommended by my Surgeon I took my Knee Walker to the convalescent home which was a great idea as the physiotherapists there showed me how to get on and off safely in different situations and this was invaluable.
I would be more than happy to recommend the Knee Walker you provide to anyone undertaking a lower leg operation and also yourself for the great service you provided prior to and after my operation.
I wish you all the luck now and into the future,
Thank you very much for everything.
"I am delighted to highly recommend StrideOn scooters. Having undergone foot and ankle reconstruction in December, I was severely debilitated and struggling with daily tasks! From my first point of contact with Renee, she couldn't have been more helpful offering a professional and friendly service. Delivery, demonstration and collection was prompt and reliable. Most importantly, the lightweight-folding scooter was well balanced due to its three wheel steering, so it was easy to turn in tight spaces. Even my medical Consultant was impressed saying he considered it the best in the market and great value"!
I just hired the Strideon for 5 weeks following an operation on my foot. Have to say it was very good, so easy to use and so much easier than crutches. Definitely gives you more mobility and was recommended by my surgeon – he said if he had a leg injury that is exactly what he would use so figured that's the best recommendation you can get. Renee was very helpful with hiring the strideon and easy to extend your rental period if you need it. If you have a leg injury save yourself a lot of pain with crutches and use one of these. Also the little basket it comes in was very handy".
"Thank you for renting me your Stride on scooter. I broke 2 bones in my foot & was in plaster. I was very immobile as I could not manage the crutches. A friend recommended your scooter & it was delivered very promptly. The manoeuvrability of it was amazing and I could suddenly feel part of the real world again. It folded up so neatly & very light to lift into the car that I was able to go shopping and spent a night in a hotel where I scooted around the foyer & caused a few raised eyebrows. I would certainly recommend it to anyone in my situation and hope that they would benefit from it as much as I did"
"My son Cormac has been using this since he had broke 2 bones in his foot from a football injury. The Stride on has been a God send for Cormac. He is totally mobile & independent, he has been travelling into work by dart no problem & last weekend he even flew to Glasgow for a weekend away with friends on his Stride on. Without the Stride on Cormac would have been very limited in his home life, work & social life.
Well done Renee Sutton for introducing this to give independence & mobility back to people suffering with injuries etc."
The StrideOn knee walker has made a world of difference to my recovery after an accident.Saved me big time. Broke my foot – couldn't put any weight on it – the crutches were killing my upper body and still couldn't even bring a cup of coffee to the table. This was a life saver – basket could carry what I needed around the house – and saved my body from the crutches. Would highly recommend this product."Can I just say thank you to the designers of Strideon . It was an absolute sanity keeper for the eight weeks I was non weight bearing on my ankle. During that time it enabled me to cook, get about the house go out to cinema, restaurants, supermarkets in fact live a normal life on one leg plus it was a lot of fun. Thank you"
"I was in a wheelchair with a cast and later a boot, totally non weight bearing, following surgery for a dislocated & broken ankle. The STRIDEON was a wonderful alternative to crutches. I could whizz about the house and the outside patios although it didn't like the gravel drive! It was great to use as a support to cook Saturday dinner (as is the tradition to let my wife have a night off) and as an elevated foot rest when sitting down. As my knee/shin was badly bruised in the initial days the wool cover was a great relief. Overall I would absolutely recommend the STRIDEON to anyone as an alternative to using crutches in most circumstances. My only problem was trying to get it back from my three kids who thought it was the coolest thing!"
"As a person who struggled badly with crutches, the StrideOn Knee Scooter was an absolute blessing and got me back mobile again"
FREE Delivery and Free Collection when you book for 4 weeks or more
All credit cards accepted